News Entries
October 16, 2010 by Scott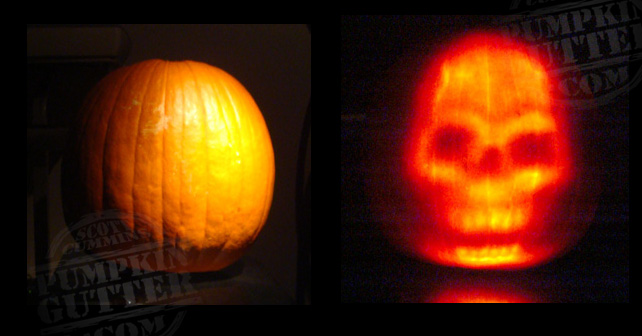 If you're looking for a cool carving challenge, check it out. Some time ago, I experimented with carving on the inside of the pumpkin rind while leaving the skin intact. The pumpkin looks normal until lit from the inside. I would imagine that some really interesting carvings can be done in this way. Give it a try!
October 21, 2009 by Scott
This morning I arrived at work to find the Marty Feldman carving partially liquified. Makes me wish I hadn't left it on the top of a wire shelf. Lots of pumpkin matter to deal with.
October 6, 2009 by Scott
Yesterday afternoon I submerged a couple of carvings in water-filled tubs. They were showing some signs of drying out and a few hours in the water plumps up the flesh again. This time I forgot to go take them out and they remained in the water overnight. Apparently it didn't hurt them and the carvings are refreshed. The inner flesh holds more water so they will have to be drained upside down for a while. When I soak pumpkins, I usually put a splash of bleach in the water to help slow bacteria and mold.
October 5, 2009 by Scott
My old guest book had to be dismantled when switching hosts last year. I save an archive of the posts, but it no longer functions. Here is the page. It does take a little while to fully load.